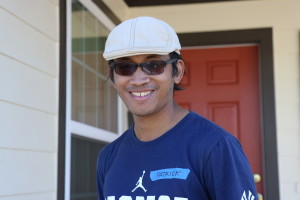 Patrick Diaz set a goal to volunteer at 100 Habitat for Humanity builds across the US.
Living in the New York area right across from Manhattan as a child, he first decided to volunteer as a way of giving back after 9/11. He learned about Habitat through his cousin, and in 2010, he started with a three day build in the Upper Ninth Ward.
In New York, recently, he helped with flood relief work, helping with continuing efforts for Hurricane Sandy relief. There, he helped restore a basement in a house where the homeowner as living in the attic because the building had flooded up through to the ground floor.
Patrick really wanted to give back to Orlando after Pulse, because Orlando is a key part of Disney, and the tragic events were deeply personal for the company. Cast members even took a group photo in front of the castle with hands forming a heart to show their support.
Dedicated to community service, Patrick also volunteers regularly with Disney VoluntEARS in California, where he is currently located.
Patrick joined us on our build site on November 9-12, 2016! View his Q/A below:
---
Q: Why did you choose Habitat for Humanity and what brought you to begin this journey?
A: I have been volunteering with Habitat for Humanity since March 2010. I'm originally from the Greater New York area, and I went to New Orleans to volunteer for Habitat for the first time that March. I had always wanted to go there to help since Hurricane Katrina struck in 2005. The three days of volunteering there was a life-changing experience for me. I had zero construction experience whatsoever, but I learned quickly and gained a strong sense of confidence and achievement. I worked with a group that had to cover the entire house with a large roll of Tyvek house wrap that was the full height of the house. It was so tricky because we had never done it before and it was hard due to the cold weather. But we developed a system to move the roll across the exterior wall, nail it from top to bottom, then roll it across again. I was one of two people on ladders inside the house who nailed the housewrap and rolled the top portion of the housewrap roll. We proudly accomplished the task, and it was my first ever Habitat assignment!
Q: Where was your last build prior to arriving in Orlando and where are you headed next?
A: In the middle of September, I went to New Orleans for the sixth time since 2010 to volunteer at my 88th and 89th Habitat build. I will be going back to my hometown of New York City to volunteer either there or in New Jersey for my 91st build!
Q: When do you think you will complete your 100th Habitat build?
A: I will most likely reach my 100th build within the next two years. After that, I will always continue volunteering for Habitat for Humanity, but would love to take part in one of their international projects. I may also try to reach a goal of volunteering for Habitat in every state! (Thus far, I have built in thirteen states.)
Q: What did you enjoy most about volunteering with Habitat Greater Orlando?
A: I got to volunteer for three days with Habitat in Greater Orlando for the first time, and worked with great people, including Disney VoluntEARS who came by the Habitat build on Thursday–that was unexpected! As a Disneyland Resort Cast Member, I volunteer extensively with Disney VoluntEARS in California and was happy I got to meet some here. I also joined Disney VoluntEARS on Saturday–they had a family activity zone in McCambridge Park for the Come Out With Pride festival and parade that celebrated the LGBT community in Orlando. I had a very productive week and realized my goal to give back to Orlando, a goal that I made immediately after the tragic events of June. On top of that, since I work for Disney, I got to visit Walt Disney World for free after volunteering for Habitat, and that certainly is never a bad thing!.
Q: What is your favorite construction task you've done with Habitat?
A: This is probably the most popular answer, but my favorite task is wall framing, because you start out with individual 2 x 4's that you assemble into a wall, and it is an epic sight to see a group of people raise the wall up and secure it to the foundation! I also love building the roof – securing the roof trusses across the length of the house, and nailing the plywood across them.
Q: What would you say to a future Habitat volunteer looking to get involved?
A: You don't have to know construction work to volunteer, you should give yourself opportunities to explore what aspect of home building or of the Habitat operation (you can volunteer at the office) you enjoy most by volunteering more than once, and whatever task you are doing, even if it's at the end of the build where you are doing light touch up and finish work, you are truly making a difference for families and making the world a better place! There is a place and role for everyone at Habitat for Humanity.
 Q: What is your role at Disneyland and your favorite ride?
A: I work at Store Operations on Main Street at Disneyland Park, and my dream is to become a Disney Imagineer. My favorite ride is Pirates of the Caribbean!