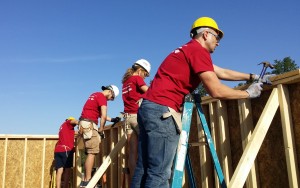 As Habitat for Humanity Greater Orlando & Osceola County celebrates thirty years, Bank of America is also celebrating thirty years of partnership with Habitat for Humanity and the work that has been done together to connect individuals and families with affordable housing.
September 24th kicks off Bank of America's Global Build Week! Over the week Bank of America employees will help to build affordable housing and revitalize communities around the world.
85 communities in eight countries will be reached and 2,000 bank employees will be volunteering. This initiative is one of the ways Bank of America is working to support growth in communities across the world.
On September 28th, Habitat Orlando & Osceola will team up with Bank of America employee volunteers to assist with priming a home, as part of the shared commitment to build thriving communities.
The Global Build provides a focal point for underlining this critical need in communities and how partnerships can help address a pressing challenge.
Habitat Orlando & Osceola looks forward to continuing the partnership with Bank of America in the Malibu Groves community to ensure that everyone has a decent place to call home.