Home meant a lot more to all of us this year. It became a school for children, an office for people working from home, and a place of refuge for many.
Imagine not having a safe, comfortable place to turn to in this difficult year. This was the reality for many of our fellow community members. 
We at Habitat for Humanity Greater Orlando & Osceola County want to change this reality. Despite this year's challenges, we were able to continue progressing in our vision for a Central Florida with more access to safe, affordable housing.
Thank you to our supporters for making the following accomplishments possible.
We completed a community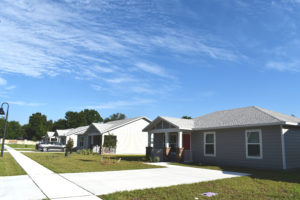 The Arbor Bend community in south Apopka was completed in March 2020. This neighborhood of 34 homes had its groundbreaking in March 2017. Read more about Arbor Bend in this blog post.
None of this would have been possible without our incredible construction team, the hard work of volunteers and the generous support of donors.
Construction is still underway in two other communities – Juniper Bend in south Apopka and Silver Pines Pointe in Orlando. Learn more about these neighborhoods on our Communities page.
Six builders. Six families. Five days.
Typically, the home construction process lasts months. Thanks to six builders, however, six homes were built in just five days in February!
HGR Construction, Jack Jennings & Sons, Khovnanian Homes, Park Square Homes, Pulte Homes, and Walker & Company joined us for our 2020 Builders Blitz. Each of these builders, along with their subcontractors and vendors, generously donated the cost of building a home to Habitat Orlando & Osceola. Thank you again to these builders, who helped six families become homeowners this year.
We look forward to our 2021 Builders Blitz event!
Mentoring future homeowners
We began our mentorship program to help prospective future homeowners get the help they need to be approved as future Habitat Orlando & Osceola homeowners. This program helps mentees become financially prepared to qualify to buy a home. Our mentors will help families reduce debt, save money, and improve their credit scores.
Interested in this virtual volunteering opportunity? Learn more about the program and sign up here.
Critical home repairs continued
Our mission includes making existing homes safer for their homeowners. We continued to provide critical home repairs to our community members – and expanded our home repair offerings.
Applications for roof repairs remain open for eligible homeowners in Orange County.
Home for the Holidays
Williams Company donated the cost of building a new Habitat home – and constructed it in under two weeks – this December! This house will soon close – and become the home of Dominique, Venessa and their family.
Thank you to this builder and its subcontractors and vendors!
---
You can help more local families experience the peace and freedom of owning an affordable home. When you donate to Habitat Orlando & Osceola, every dollar helps us build homes and work toward a world where everyone has a safe and affordable place to live. You can make impact lives through homeownership; please give today.