Habitat for Humanity Greater Orlando & Osceola County's Board of Directors are committed to ensuring that all of our neighbors in Central Florida have a safe, affordable place to call home. This dedicated team provides direction, oversight, and more to Habitat Orlando & Osceola's staff.
Each month, we'll introduce you to a different member of this hardworking team. This month, we'd like you to get to know a bit more about Habitat Orlando & Osceola Board Chair Pete Barr Jr., the President and CEO of advertising agency &Barr.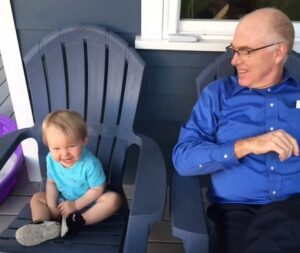 Tell us about yourself.
I was born here in Orlando, attended downtown public schools, and graduated from Florida State University. Married for 34+ happy years to Sheryl and we have a son, Jim. I focus on family and running &Barr. Next month will be 33 years at &Barr, and that makes me proud. My dad and his two partners started this company in 1957. Having the blessing of working with my dad was special. I speak with him every day. Our son Jim is married to Ellie and they have a son Henry who just turned 2 years old. Sheryl and I spend most of our free time keeping up with and visiting them. My hobbies are exercise, adventure and boats/boating. Finally, my faith life is also a priority as Sheryl and I attend Emmanuel Episcopal Church. I am a cradle Episcopalian.
Why did you first become involved with Habitat Orlando & Osceola?
While I was certainly aware of Habitat Orlando & Osceola, I really did not know much. A friend and our insurance agent – Doug Foreman – asked me over lunch to consider learning more and asked if I would be willing to serve.
What drove you to commit to serving on the board?
When I learned the details about the mission, I was sold.
What about Habitat Orlando & Osceola has kept you involved with us?
Seeing the new homeowner smiles and tears and satisfaction. Early in my board experience I went to a house dedication with Sheryl on a Saturday. That was very special to see the outcome.
How would you characterize the board's role at Habitat Orlando & Osceola?
To provide oversight, governance and counsel. To advocate, make connections and support the staff.
As a board member, what is your vision for Habitat Orlando & Osceola?
Short-term: Rebound from this challenging time and thrive again. Longer term: explore new solutions to what "home ownership" means to our community. To further our program offerings in Osceola County.
What have you learned from our future homeowners?
How blessed I am, and how willing so many are to work hard and commit to home ownership.
How has your personal life or professional experience helped you as a board member?
I like people and enjoy using my communication skills to bring people together and facilitate discussion and action toward making positive impacts.
What would you say to organizations that are considering donating, volunteering, or partnering with Habitat Orlando & Osceola?
There is no better investment in our community than to help families own homes. The outcome can be transformative for generations.
Is there anything that you would like to include about yourself or your work with Habitat?
Because Orlando is my hometown, I will always give back to my community. It truly is better to give than receive.
---
You can help more local families experience the peace and freedom of owning an affordable home. When you donate to Habitat Orlando & Osceola, every dollar helps us build homes and work toward a world where everyone has a safe and affordable place to live. You can make bring hope home through homeownership; please give today.