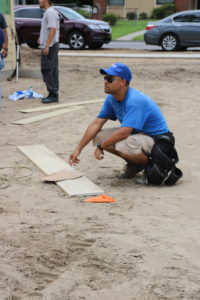 Driven by the desire to continue honing his skills in the construction industry, Jose Perez began building homes with Habitat for Humanity Greater Orlando & Osceola County in 2009.
His background in construction made him a resource on the build site – and his high attendance established him as a dependable volunteer.
Jose came so often, Habitat Orlando & Osceola staff unceremoniously handed him a crew leader T-shirt. Despite a move outside of Orlando, he continued working with Habitat affiliates, returning to his crew leader position with Habitat Orlando & Osceola in 2016.
Crew leaders do more than oversee fellow volunteers through daily construction tasks. They also share Habitat Orlando & Osceola's mission.
"You can't go wrong doing this," Jose said. "It's definitely putting goodwill out there."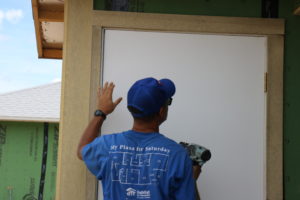 The crew leader position offers a variety of benefits.  It's a chance to learn or hone skills, meet people, and do something for your community.
For Jose, the position has an added benefit. He designs the trusses used for the roofs for a building materials supplier.
Jose takes the knowledge of working with trusses in the field back to his job.
"Seeing the end product helps me understand our customer better," Jose said.
---
Want to volunteer with Habitat Orlando & Osceola? Visit HabitatOrlandoOsceola.org/Volunteer to sign up. Future crew leaders should contact Chelsea Bilger at (407) 574-2655 or CBilger@HabitatOrlandoOsceola.org.