Xiomara and her paralyzed son to move into their Habitat home this holiday season
William has been mostly confined to his bedroom for the last three years.
The 30-year-old was in a catastrophic motorcycle accident in 2018 that caused a traumatic brain injury and paralysis. His mother, Xiomara, was by his side throughout his five long months of recovery in the hospital, and she has been his caretaker ever since — having to cut her work hours in half to care of him.
But her cramped apartment is not conducive to William's wheelchair and medical equipment, leaving her no choice but to keep him in the same room most of the time.
All that will change soon. Xiomara is set to close on her new, accessible house in Habitat for Humanity Greater Orlando & Osceola's Juniper Bend community at the end of December.
Habitat's construction department modified the floorplan of her home to remove the dividing wall between the second and third bedrooms to make one large bedroom. They also replaced the bathtub with a walk-in shower and added a ramp to the rear door. The front door is a zero-step entry, already a standard feature in each of our homes.
"I talk to William every day and show him the pictures (of the house being constructed)," Xiomara said through a translator. "I tell him: Soon we'll be at our house. You're not going to just live in your bedroom anymore."
Decades of overcoming obstacles
The single mother of four moved to Central Florida from Puerto Rico 25 years ago. She dedicated herself to working, sometimes holding two to three jobs at once while working to improve her English. Some of her jobs have included machine operator, maintenance technician, and cleaning business owner.
But after William's accident on St. Patrick's Day in 2018, she dedicated herself to taking care of him. She found a job where she could work four hours a day. Every day, she gets up at 4:30 a.m. to take care of William and then heads off to her job taking care of a bedridden senior while her other son stays with William.
She was making it work, but the lack of space in her apartment was becoming more and more frustrating. In 2019, when a friend recommended that she apply for Habitat Orlando & Osceola's homeownership program, she jumped at the opportunity. But her application was denied because her credit score didn't meet the minimum requirement.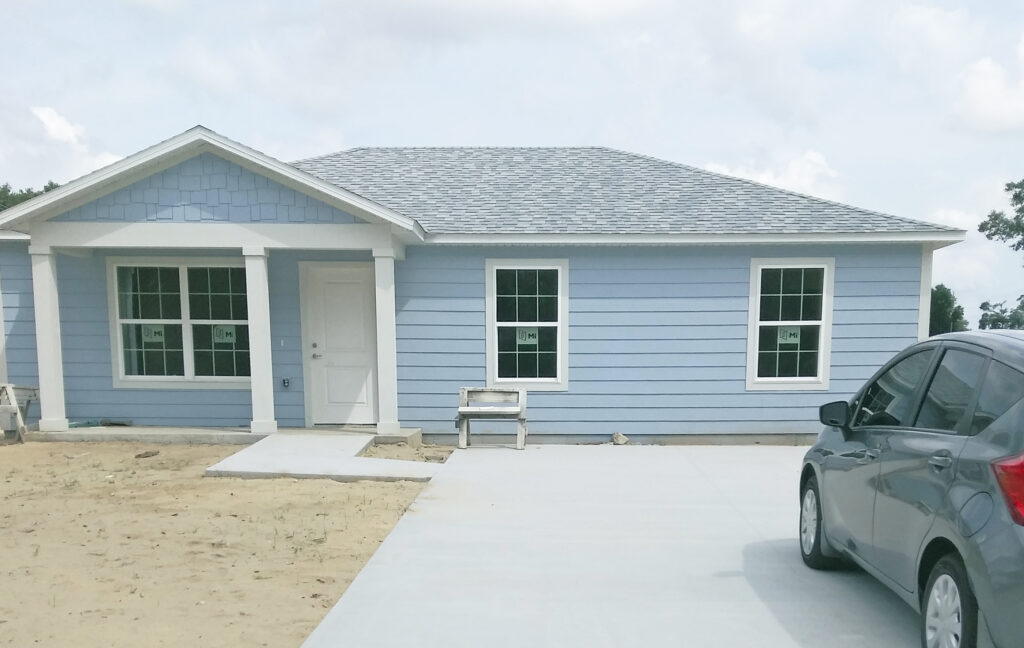 Thankfully Liz Alicea-Madera, Habitat Orlando & Osceola's vice president of Program Services, told Xiomara that she didn't think this was the end of her journey. She personally took Xiomara on as a mentee under Habitat's homeownership mentor program, working with her to create a plan to pay down high balances on her credit cards and pay off her car. They agreed that in a year, she would reapply.
Xiomara said she put on "horse blinders" to focus on raising her credit score. She only spent money on the absolute basics and put the rest toward her bills.
"As long as you can pay rent, water and have food, there's nothing else that you're missing because you have a goal and the goal is right there," Xiomara said.
A year later, almost to the day, she reapplied and got approved. Both mentee and mentor were elated.
"Mentorship works," Liz said. "It can take a few weeks, months. It could take up to a year."
Paying it forward
Future homeowners are required to complete 75 hours of sweat equity, which serves as the down payment for their home. Because of Xiomara's schedule and the COVID-19 pandemic, she hasn't been able to do the more traditional sweat equity hours on the construction site.
Instead, she's been doing random acts of kindness, including bringing dessert for the staff at William's doctor's office and donating items to a local church.
She's loved helping in small ways and wants to do more even after her sweat equity hours are fulfilled.
"I found help through Habitat and that's what I want to be for other people," she said.
She hopes her children will be motivated to follow in her footsteps as homeowners one day. "They can see the achievement that their mom has and the hard work that I have done to accomplish this dream."
She's looking forward to having family over to her new home for holiday meals and is thrilled that William will finally be able to join them.
To her, home means everything.
"Security, peace, emotional stability, financial stability," she said. "I will never lose what I have fought for. I will never let that fall apart."
---
Apply for Homeownership: Habitat Orlando & Osceola offers energy-efficient three- or four-bedroom homes, customizable options and affordable mortgages. Learn more and apply >>
Support Us: You can help more local families experience the peace and freedom of owning an affordable home. When you donate to Habitat Orlando & Osceola, every dollar helps us build homes and work toward a world where everyone has a safe and affordable place to live. You can impact lives through homeownership; please give today.