Kaitlyn Wilke is an Orlando resident of eight years. She knew that to make this bustling town feel like home, she'd need to get involved.
She looked for groups that she could give back to and that made her feel part of a connected community. Working in Orlando's booming construction industry, she found a home in the Central Florida chapter of NAWIC (National Association of Women in Construction). It was there that she heard about Habitat for Humanity Greater Orlando & Osceola County.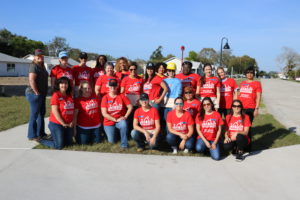 She connected right away with the mission of affordable housing and its importance in the Central Florida community. She participated in her first Women Build this year with her fellow NAWIC members, literally "raising the roof" and installing trusses on a Saturday in March. She and about 10 fellow WELBRO teammates will volunteer during Holiday Build 2019 this December as well.
But her hard work starts long before she arrives at the build site. "We like to creatively fundraise instead of just asking for money," she shared.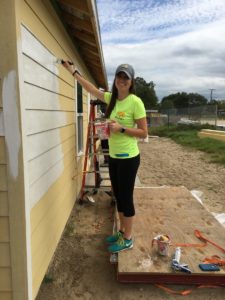 Since getting involved with Habitat Orlando & Osceola, she's kickstarted some truly innovative fundraisers that are fun, and directly benefit affordable housing in the community. They've hosted spaghetti lunches, courtesy of Olive Garden; sold Halloween-themed treats to coworkers; held an in-office hole-in-one tournament; and enhanced a Solar Bears game for coworkers through dinner and drinks, supported by WELBRO.
Their hard work pays off. Last year, the WELBRO team raised $2,500 which their organization matched dollar for dollar, for a total of $5,000.
What keeps Kaitlyn coming back, though, is being able to see the impact of her hard work, both fundraising and volunteering. "The biggest thing for me is being able to see the impact on these families. It's really hands on," she said of a day on the build site.
She's driven to give back, primarily, because of her gratefulness for the things she's been given – that makes her want to help others.
She can't wait to return to the build site in December for Holiday Build. "Someone mentioned dressing up as Santa's helpers," she laughed. "I'm sure we'll do something fun."
Learn more about how you can be a part of building strength & stability through shelter like Kaitlyn.