Affordable homes have far-reaching effects on our Greater Orlando & Osceola County neighbors.
Homeownership frees families from housing the fear of losing their home due to increasing rent or the threat of eviction. Once shelter is no longer in question, people can focus on fulfilling other needs such as higher education, nutritious food, and better healthcare.
Habitat for Humanity Greater Orlando & Osceola County is impacting local lives by building safe, affordable homes for the community – and facilitating a program that prepares local people for homeownership. Read on and meet three Habitat families who now own affordable homes.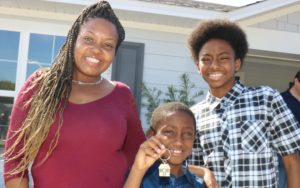 Patricia
There's security in owning your own affordable home, Patricia said. As a homeowner, she doesn't have to worry about the ever-changing rental market.
Patricia appreciated that there were no surprises working with Habitat. She knew she could afford the mortgage for the Habitat home she shares with her two young sons.
Read more of Patricia's story here. >>
Rhonza
This mother of four has seen her sons thrive in the home she now owns, setting goals and aspirations of their own.
Her two eldest sons have since started their careers and moved into their own apartments. Rhonza's twin sons – her youngest – are seniors in high school, preparing for their next steps.
The benefits of homeownership extend far beyond Rhonza's own family.
Read more about Rhonza's story here. >>
Vivian
Structural damage forced 80-year-old Vivian to leave her home of 25 years for several months. The home had been a treasured family gathering spot for generations of her nieces and nephews.
Thanks to a partnership with the City of Kissimmee and Habitat for Humanity Greater Orlando & Osceola County, however, Vivian got a first look at her reconstructed home in July.
Read more about Vivian's story here. >>
---
Give the gift of home for the holidays by getting involved with Habitat Orlando & Osceola. Every dollar or hour you spend on us helps to build safe, affordable housing for members of your community.