On any given day, the Habitat for Humanity Greater Orlando & Osceola County staff is guiding future homeowners through the closing documents to buy their first home. Our crew is at the construction site in our Silver Pines Pointe neighborhood overseeing the building of energy-efficient, affordable homes. We're helping non-Habitat homeowners replace their old, weathered, unsafe roofs. 
Our vision of a stronger Central Florida guides us through this work. We want all of our neighbors to have a safe, affordable place to call home.
In honor of National Nonprofit Day, Aug. 17, our staff reflected on our work here in Central Florida. You'll find their answers below.
What is your favorite thing about working at a nonprofit like Habitat Orlando & Osceola?
"I love the feeling of taking positive action to serve my community." – Lucie Ghioto, VP of Planning & Construction
"I absolutely love how much passion there is throughout the office. Working for a nonprofit is unlike any other job you can have. Everyone is mission oriented and focused on what can we do to help or guide individuals towards owning their forever homes." – Jackie Mesa, Client Intake Coordinator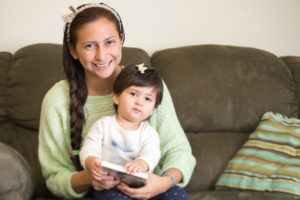 "Giving people new opportunities to grow and thrive through homeownership, and how much they are able to improve their lives and the lives of their families by having a safe, simple, affordable place to own and call home." – David Bunzel, Volunteer Coordinator
"It's hard to choose just one, but I would say the people! Everyone that works here is so passionate about what we do. It shows through the dedication to the mission and the community. Also, our homeowners and future homeowners, their commitment to our program and determination to achieve their goal of homeownership is an inspiration." – Jenay Byrd, VP of Human Resources
"I like knowing that the work I do makes a real difference in the lives of the residents in our community." – Gregory Allen-Anderson, Chief Program Officer
"The culture of serving the housing needs of our community at Habitat for Humanity, a well known nationwide recognized non-profit organization, makes me happy." – Silvia Vega, staff accountant
What accomplishment or moment are you most proud of in your time at Habitat Orlando & Osceola?
"I'm proud of the resilience of our organization and team members in continuing to find new ways to support those in need of affordable housing in times of great unpredictability." – Lucie
"The moment that made me the proudest was when I saw a first time homebuyer ring the Sound of Success bell after closing on her first home. It was then that I saw firsthand how much of an impact we are making in people's lives." – Jackie
"Being a part of the growth that we've experienced as an affiliate. I am proud to be celebrating my 7th year as a staff member this month and I feel that I've also grown along with the organization both professionally and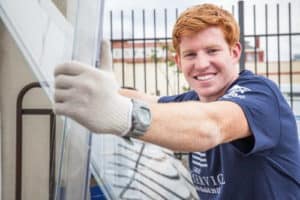 personally!" – Jenay
"Every time we bring a new partner in to support our mission feels like a huge accomplishment. It's really amazing to see people who want to learn about what we do and then offer their resources to help their neighbors in need!" – Amanda Cole, grant manager.
"I am extremely happy that I have been giving the opportunity to work directly with the Construction Department as I am learning even more how our work impacts our community." – Silvia
What's one thing about Habitat Orlando & Osceola (or our mission) you wish more people knew?
"I wish more people knew just how hard our homeowners work every day to achieve their goals of homeownership. It's inspiring and motivates me to work harder each day to support them." – Lucie
"I wish that more people knew that once accepted into the program, we are with these families/individuals every step of the way to owning their new home." – Jackie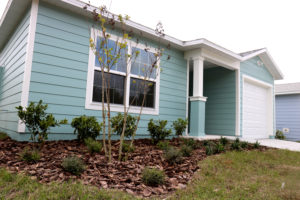 "In my orientations I point out what I consider the three misconceptions of Habitat. 1) Not founded by Jimmy Carter, 2) Homeowners pay for and help build their homes – it's a hand up, not a hand-out 3) We build quality homes, not just low-end shelter. The latter two are most important, especially No. 2. Our homeowners have skin in the game, and have to go through a lot to reach their goal. Once upon a time though the Carter misconception was bigger. When I started with Habitat I would meet people who didn't want to get involved because "that's Carter's thing." Fortunately, and even though we all know how important the Carters are to our mission, history has become much kinder to the former President over the last decade and respect for Jimmy has universally grown." – David
"Our homeowners BUY their home, and pay taxes just like other homeowners do." – Greg
"We actually build whole subdivisions of homes where families get to know their future neighbors while going through the process. I think it's really special that they will always have a close knit neighborhood and community." – Amanda
---
You can help more local families experience the peace and freedom of owning an affordable home. When you donate to Habitat Orlando & Osceola, every dollar helps us build homes and work toward a world where everyone has a safe and affordable place to live. You can impact lives through homeownership; please give today.