At Habitat for Humanity Greater Orlando & Osceola County, we know that a house is more than just shelter.
A safe, affordable home has the power to transform the lives of our homeowners and their families.
You make a difference by supporting Habitat Orlando & Osceola. Here's how:
You help to foster prepared homeowners
Through partnering with Habitat, our homeowners work to earn their safe, affordable home. They contribute 75-150 hours of 'sweat equity' on our construction sites – and take eight homeownership classes.
These requirements are a key part in ensuring that our homeowners are ready for the responsibilities of homeownership, from paying a mortgage to maintaining their house. Prepared homeowners can become stable members of their community.
You empower local people to thrive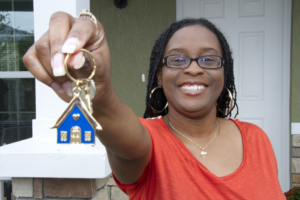 For many of our future homeowners, owning a home is a longtime dream – one that can seem forever out of reach in Central Florida's housing market. Our homeownership program provides a hand up and over the roadblock of high housing costs.
Once they pay an affordable mortgage, homeowners – and their families – are free from high rents, the threat of eviction, and/or unsafe housing conditions. They are then better able to thrive.
When housing is no longer a stressor, homeowners can turn their attention to obtaining higher education, better healthcare, nutritious food and more.
You make a difference that lasts generations
Homeownership doesn't just affect homeowners for the better. It gives their families the stability necessary to succeed in school. It gives their community the benefit of hardworking homeowners who are more involved in their neighborhood.
When you invest in Habitat Orlando & Osceola, you invest in people – and your community. You make a difference.
---
Give the gift of home for the holidays by making a difference with Habitat Orlando & Osceola. Every dollar or hour you spend on us helps to build safe, affordable housing for members of your community.