Jessica is a small business owner who runs all aspects of her massage therapy practice. She's also working on a science fiction novel and wants to study business and life coaching. And she would like to have a family one day.
For her, homeownership lays the groundwork for all of this.
"I believe 100 percent that my home will help me create the future I want," she said. "My home will be a safe space to create my own world, have my own energy to think freely and creatively, and accomplish my goals."
Jack Jennings & Sons will build Jessica's home in Habitat for Humanity Greater Orlando & Osceola County's Silver Pines Pointe community during Builders Blitz 2022. During the second week of February, five construction companies (and their subcontractors) will donate the materials and labor to build six brand-new homes in five days.
When Jessica learned about Builders Blitz, it was hard for her to believe that a house could be built in less than a week. "It's an awesome idea. I think it will be a phenomenal experience."
Hard work and patience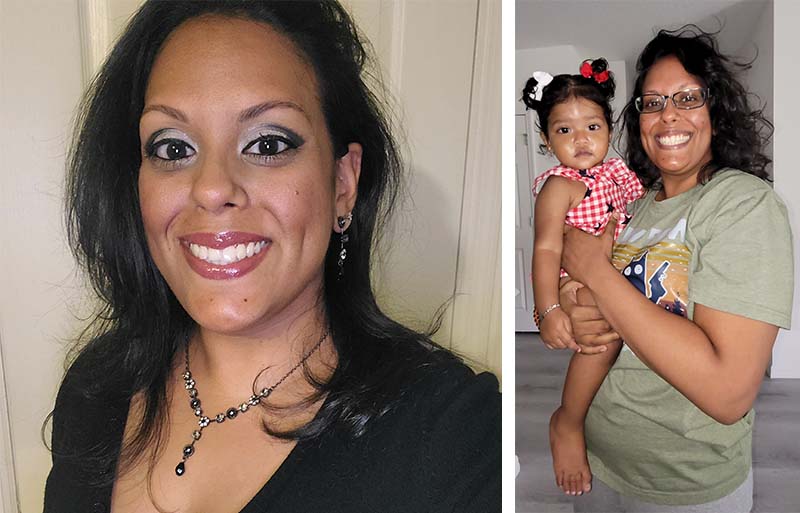 The road to homeownership has been a long one, including overcoming obstacles related to the COVID-19 pandemic over the last two years.
Jessica managed to keep her small business afloat, which was an achievement by itself, but even more impressive since she is a massage therapist. She knew that her clients would need the therapy as much as before, especially elderly folks and people with injuries or disabilities. Jessica implemented extreme precautions to protect her clients, herself, and her parents.
Jessica has been a licensed massage therapist for 15 years. She handles all of the responsibilities of owning a small business and also maintains a longstanding position with a national massage therapy company. "I love owning my own business, but it comes with a lot of stress," Jessica said. "I do all the advertising, taxes, space rental, safety protocols, and everything else but I love the opportunity to do both jobs."
Still, the pandemic affected her finances enough to force her to move in with her parents after living on her own for many years. One parent has pre-existing conditions and fortunately, none of them became ill.
Making home affordable
Jessica always wanted to own her own home, but the pandemic clarified how important it is to be independently secure. "I realized how hard it is for so many '30-something' adults who don't make enough money to be on their own. A lot of people took out student loans and then couldn't find jobs in their field or jobs that pay enough, so they have to live with their parents," she said.
"They're in a cartwheel of debt," Jessica said. "It's very difficult."
Central Florida is seeing the highest rent hikes in history right now. The fair market rent for a two-bedroom apartment in Metro Orlando is $1,321. But the average income in our area can only stably afford $945 for housing.
First-time homebuyer hopefuls are being shut out of the housing market, so they have no choice but to rent.
Jessica has loved HabitatU, the classes required by the homeownership program to prepare applicants for homeownership. "Learning about estate planning was a big one – the legalities and the nuances of why it's important to have a will and a power of attorney. And the home maintenance was very eye-opening. Most people don't get this knowledge, and it helps you for the rest of your life."
One of the most exciting things about the program is purchasing a newly built home with an affordable mortgage. "It's a huge advantage," she said. "I'll prepare for all those maintenance needs, but not needing it right away is incredibly helpful financially."
Dwelling in gratitude
Jessica said her home will be a place of peace.
"When you come home it will be a place to rest and rejuvenate after a long day of hard work," she said. "You walk through your front door and just breathe a big sigh of relief to be there. That's what home means to me."
She is an extremely spiritual person who is always trying to better herself.
"I know not every day will be a great day, but obstacles make you stronger and give you understanding of the people and the world around you," she said. "I like to dwell on positivity and gratitude. And right now, Habitat is giving me a lot to be grateful for."
Learn more about Builders Blitz and read more homeowner stories >>
________________________________________
Apply for Homeownership: Habitat Orlando & Osceola offers energy-efficient three- or four-bedroom homes, customizable options and affordable mortgages. Learn more and apply >>
Support Us: You can help more local families experience the peace and freedom of owning an affordable home. When you donate to Habitat Orlando & Osceola, every dollar helps us build homes and work toward a world where everyone has a safe and affordable place to live. You can impact lives through homeownership; please give today.