Vivian's home has been a fixture of her family for decades now. Generations of nieces and nephews gathered for holidays, stopped by for visits, and spent weekends and holidays with her over the years.
"It's for everybody," 80-year-old Vivian said of her Kissimmee home.
Those family gatherings in Vivian's home came to a halt last November, when she had to move to a niece's home due to structural safety concerns in her own house.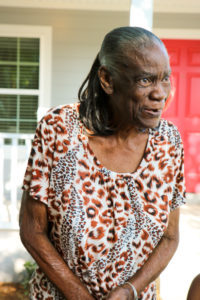 Thanks to a partnership with the City of Kissimmee and Habitat for Humanity Greater Orlando & Osceola County, however, Vivian got a first look at her reconstructed home with family members, city and Habitat staff, and media on July 18.
While Vivian looked forward to "everything" about her new home, she said her great grandnieces and grandnephews "are more excited than I am."
Vivian purchased the home in 1994 when she retired from Tupperware after more than 10 years with the company. The 57-year-old Kissimmee home was already in need of repairs then, and the issues worsened. Vivian, who is on a fixed income, couldn't keep up.
"The roof was getting worse," Vivian said. "Everything was getting worse."
Vivian originally applied for the city's home repair program – but the damage was too extensive. The City of Kissimmee chose Habitat Orlando & Osceola as the partner to use State Housing Initiatives Partnership (SHIP) funds to reconstruct Vivian's home.
Habitat Orlando & Osceola expanded its service area into Osceola County last year. Several Habitat projects are underway – and Vivian's home is the first completed new build.
The city's staff, Habitat Orlando & Osceola staff, and architects Keesee and Associates modified a Habitat home model to fit the house's location – and the needs of Vivian.
The house was designed to aesthetically fit with the look of the City's Downtown Community Redevelopment Area, while considering Vivian's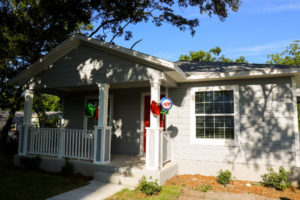 needs and the property's location in a flood plain. Habitat's work will ensure that Vivian never encounters any flooding issues – and a reduction in her insurance premium in the future.
"We are all about making sure home is affordable," said Catherine Steck McManus, president & CEO of Habitat Orlando & Osceola, at Vivian's welcome home gathering.
Vivian's 8-year-old grandnephew, who lives around the corner, updated her on the house almost daily.
A neighbor, Nate, checked in regularly – as he always has – ensuring that tree limbs were trimmed and construction crews had access to his own trash bins.
"A home is so much more than just the sticks and the bricks, it really is the community that surrounds it," McManus said. "It's the relationships that are built when someone lives in a home and in a neighborhood.
"That's what Habitat for Humanity is all about. That's what the City of Kissimmee is striving to do with the advent of more and additional affordable housing."
---
You can help more local families experience the peace and freedom of owning an affordable home. When you donate to Habitat Orlando & Osceola, every dollar helps us build homes and work toward a world where everyone has a safe and affordable place to live. You can make impact lives through homeownership; please give today.