Editor's note: Lavonne, Nathaniel, and their family moved into their Habitat home in March 2020 (the photo above was taken at their closing). Congratulations! Thank you to Habitat Orlando & Osceola's supporters for helping to make this happen!
Affordable rent has kept future homebuyers Lavonne and Nathaniel, along with their five sons, living in unsafe living conditions for the past 5 years.
Their two-bedroom rental isn't just overcrowded. It's regularly in need of repairs. Plumbing issues led to several cave-ins in the living room and the one bathroom.
Lavonne had nearly accustomed herself to the idea of being a lifelong renter after years of being turned down for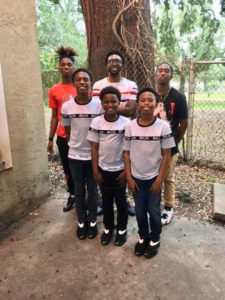 homes and homebuyer assistance – until she received some encouragement from family to apply to Habitat for Humanity Greater Orlando & Osceola County.
"The Lord had something bigger and better for us," Lavonne said.
Lavonne learned of their acceptance into the program while at work. She screamed after reading the acceptance email before calling her husband, who announced the news to soon cheering friends.
"Our dreams have been answered – and our prayers," Lavonne said.
The journey toward homeownership didn't end there, however. Nathaniel, Lavonne and their oldest son, Ja'Kye, worked to complete the required 400 hours of sweat equity. The couple struggled to make it to homeownership classes with their schedules but picked up good advice on home repairs and maintaining good credit.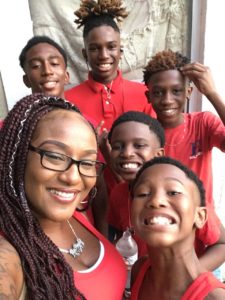 The family has kept each other going throughout this process to own a safe, comfortable Habitat home.
"We're a close-knit family," Lavonne said. "We don't ask people for help whether we need it or not."
The children – 10-year-old Nadarrian, 11-year-old Jordan, 13-year-old Quinton, 15-year-old Na'Tavian, and 17-year-old Ja'Kye – have already planned much of the house.
The garden, however, will be all Lavonne's.
"I want to be a gardener," she said. "I want to start gardening and start growing my own food."
---
We want to make sure all Osceola County and Greater Orlando residents have a safe, affordable place to call home. You can help us bring hope home.