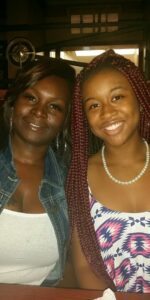 "When I got the news that I was approved to become a Habitat homeowner I couldn't wait to tell my daughter, Zion, that we were finally going to have our own home," says Trina, a future Habitat Orlando & Osceola homeowner. "2020 has been a challenging year for all of us, but this has made my 2020!"
Trina and Zion's new home in Juniper Bend will be a "comfort zone" – a stark contrast to their current living situation. Although Trina works full-time at a specialty pharmacy, they are crowded together in her mom's small house with three other family members, making it especially difficult to work and study "remotely" during the pandemic.
The opportunity to move into a safe, stable home with a mortgage that fits comfortably in Trina's budget will provide a pathway for both of them to pursue their dreams.
"Zion loves to write. That's her thing," Trina says about her daughter who is studying journalism at Valencia College. "As soon as she graduated from high school, she knew that's what she wanted to do. I'm so happy for her."
For Trina, no longer worrying about having a roof over her head will allow her to start her own cleaning business.
"It's something down the line, but I think that when I move into my home, I will be more focused and stable which will help me get my business off the ground," she adds. "Right now, I am just enjoying my Habitat moment and knowing that God has a place for me."
Her "Habitat Moment" will include 17 hours of homebuyer education classes focused on homeownership readiness and financial management. She will also invest 75 hours of sweat equity which has transitioned from working on the build site, to volunteering virtually during the pandemic.
"I can't wait to have a place where we can build memories and just be ourselves," Trina adds. "I think homeownership will ultimately enable us with a sense of where we belong."
---
You can help more local families experience the peace and freedom of owning an affordable home. When you donate to Habitat Orlando & Osceola, every dollar helps us build homes and work toward a world where everyone has a safe and affordable place to live. You can make bring hope home through homeownership; please give today.