Editor's note: Michael purchased his home in December 2019! Congratulations to Michael and his family! Thank you to our amazing supporters who helped give Michael a hand up to homeownership. 
"Stability. Ownership. And pretty much mine."
That's future homeowner Michael's definition of home. His definition will become a reality, thanks to his hard work, and a hand up from Habitat for Humanity Greater Orlando & Osceola County along with the Orlando Magic. The basketball franchise will help build Michael's home.
"It's like a dream come true," Michael said of a home. "That's one of the big prized possessions a person will own."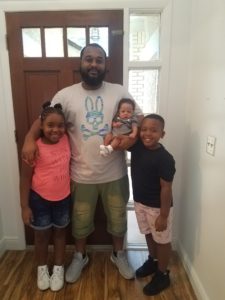 Michael and his three children, 10-year-old Michael Jr., 8-year-old Kamorah, and 1-month-old Jahir, currently live with family and have moved home to home for the last few years. It's a frustrating experience, especially when a home is already overcrowded, Michael said.
He was looking for a home in that timespan, making certain aspects of homeownership familiar to him when entering Habitat Orlando & Osceola's homeownership program: financing, establishing good credit, saving money – all difficult things to maintain as a father of three.
"It's tough to juggle, but God knows all things," Michael said.
Michael is used to taking on what seems impossible, however. He was the first person in his family to graduate from college with not one, but two Associate of Science degrees in civil engineering and building construction.
Michael's background in construction made completing his sweat equity, or volunteer hours, at Habitat Orlando and Osceola's build sites a fun opportunity.
"You get to not only work on your house, but also work on other houses," Michael said. "It's a warm feeling because you're motivated to get your house up and running."
Volunteer work isn't unfamiliar to Michael. He works with a fatherhood program that supports single fathers like himself through everything from job hunting to parenting their children.
"I love helping guide people," Michael said. "I love telling people my experiences so they can learn from it."
Through this hefty set of responsibilities, his kids motivate him. He just wants "to be able to give them a better life. To never have to go through the things that I went through. Just pretty much not to live a difficult life. I want to always see them happy."
He hopes he inspires them to follow his footsteps in becoming a homeowner and having a stable residence.
"If you have a dream, go for it," Michael said. "Don't let anybody or anything tell you that you can't do something.
"Set goals and see what steps you need to achieve them and go from there."
---
We want to make sure all Osceola County and Greater Orlando residents have a safe, affordable place to call home. Learn how you can help by visiting our Get Involved page.