Charlotte has lived in her home in Orlando's Greater Malibu Groves community for nearly 30 years. In this home, she raised her daughter, welcomed her grandchildren, and became a part of her neighborhood.
About 15 years ago, the need for extensive repairs to the 51-year-old home became apparent. A previous renovation attempt left exposed wires and insulation. Charlotte regularly picked grass growing from a hole in her laundry room.
Charlotte was not in a financial position to move or complete the repairs, so she learned to live with the issues – until she spotted a flyer for Habitat for Humanity Greater Orlando & Osceola County's Neighborhood Revitalization program.
That day, she contacted Habitat Orlando & Osceola staff, collected the information necessary for the program – and applied. Charlotte was sixth on the list.
"I should've been second," she joked.
Charlotte completed her sweat equity hours, volunteering in her community. Soon after, her repairs began.
Several health-related issues made installing a new kitchen necessary. Mold stemming from a previous water leak was growing on the drywall behind Charlotte's cabinets. While repairing Charlotte's home, Habitat Orlando & Osceola crew also found faulty wiring.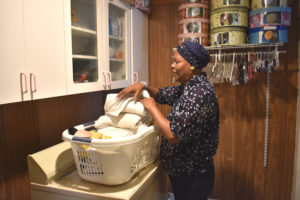 Although Charlotte loves her new kitchen, the newly enclosed laundry room – free of exposed wires, insulation and holes – is her favorite part of the repairs.
"This was the stuff that needed to be done," Charlotte said.
The Habitat Orlando & Osceola construction crew went beyond, she said. For Charlotte, a self-proclaimed "detail-oriented troubleshooter," shelving and cabinets were a necessary addition to the laundry room. The Habitat staff helped install these organizational features, too.
"They did an excellent job," Charlotte said of the Habitat Orlando & Osceola crew. "I can't help but brag on them."
---
You can help more local families experience the peace and freedom of owning an affordable home. When you donate to Habitat Orlando & Osceola, every dollar helps us build homes and work toward a world where everyone has a safe and affordable place to live. You can make impact lives through homeownership; please give today.