Editor's note: The PaverScape Inc. volunteer photos included in this article are from Habitat for Humanity Greater Orlando & Osceola County's photo archives and were taken before the nonprofit's build sites were closed.
After years of personally supporting Habitat for Humanity, Karen and Chuck Miller wanted to increase their support to a corporate level when they became business owners.
Their company, PaverScape Inc., has since become a dedicated supporter of Habitat for Humanity Greater Orlando & Osceola County. The PaverScape Inc. team are regular attendees of the annual Women Build event and gather for Team Builds at the nonprofit's build sites.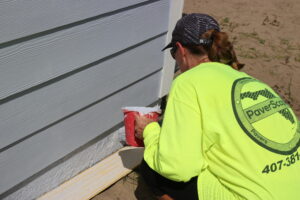 "I think that volunteering on past projects has been most beneficial to our younger generation of employees to see the importance of giving back to the community that they live in and that helps them succeed in life," Karen Miller said.
While PaverScape Inc. has not created a set mission when it comes to philanthropy, the company tries to help wherever there's a need, Karen said.
"The need for affordable housing in the Central Florida area is so strong and it is such a great feeling to see a family work hard to achieve something like owning their first home and becoming long term members of their community," she said.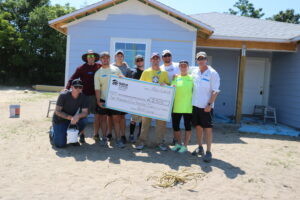 The Millers also generously support Habitat Orlando & Osceola's mission on a personal level. They believe in the "teach someone to fish" philosophy. Habitat's program exemplifies this with its requirements of homeownership classes and sweat equity.
"Habitat for Humanity truly strengthens our community by providing a much-needed program to people willing to work hard to attain a safe, stable, and affordable permanent home for themselves and their families," Karen said. "As a volunteer and/or donor, it is so easy, and reassuring, to see the effects that your time and money have helped create through Habitat's programs.
"That, to me, is a huge part of why we will continue to work with this organization."
---
You can help more local families experience the peace and freedom of owning an affordable home. When you donate to Habitat Orlando & Osceola, every dollar helps us build homes and work toward a world where everyone has a safe and affordable place to live. You can make bring hope home through homeownership; please give today.