Minutes from the end of a staff development meeting, the email Wanda had been waiting for all day arrived: the email telling her if she was approved to own a Habitat home.
The third-grade teacher rushed out of school and told the first person she met – her Uber driver – that she had been approved to be a future homeowner with Habitat for Humanity Greater Orlando & Osceola County.
The driver's confused congratulations pushed her to call the three Habitat homeowners in her life who continued to encourage her after the initial denial from Habitat Orlando & Osceola just months earlier.
"Anything you set your mind to, you can do it," Wanda said.
That attitude has persisted throughout Wanda's life.
Wanda dropped out of high school in her teens. After becoming pregnant with her eldest son Nathan, Wanda set a goal: Attain a GED by her July due date. She read pregnancy books to improve her reading comprehension – and by that date, the brown envelope containing her certificate arrived.
"Here I am, big and huge, crying in my mom's living room," Wanda recalled of her happiness.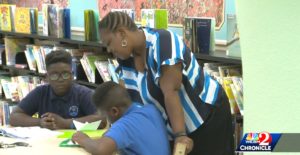 Receiving her GED was just the start of Wanda's educational aspirations. Inspired by the memory of her encouraging 1st- and 4th-grade teachers, she later got her bachelor's degree in education. Wanda wants to get her master's degree next.
Wanda has approached the requirements of Habitat Orlando & Osceola home requirements with the same work ethic. A week after orientation, Wanda took the first of 17 required homeownership classes.
Wanda wants her sons, 12-year-old Nathan and 9-year-old Jashun, to have the sense of home ownership and neighborhood she experienced growing up. Nathan is looking forward to cutting the grass at his new home, while Jashun is hopeful for some new friends in the neighborhood.
The family rented for years, before having to leave their last rental after the property foreclosed. They've been living in Wanda's mother's home recently.
"My ultimate goal was that I would never move again unless I'm moving into my own house," Wanda said.
Editor's note: This story was published earlier this year, before Wanda was selected as one of our Builders Blitz homeowners. Wanda's Habitat home was constructed during the 2020 Builders Blitz by Pulte Homes, one of six local builders who constructed a home within five days during the event.
---
Wanda will make affordable homeownership a reality with a hand up from Habitat for Humanity Greater Orlando & Osceola County – and you. Visit HabitatOrlandoOsceola.org/Get-Involved to learn more about how you can help.