For Cindy Hall, being a Christian led her to make volunteering a staple of her life.
"Christ has done so much for us," Cindy said in a recent phone interview. "As my devotion to Him and thanksgiving to Him, I will therefore serve others in any way I can think of."
Those ways include helping her local church, participating in a lake monitoring program, and working with Habitat for Humanity.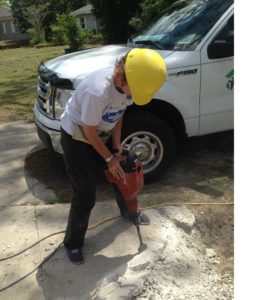 Her employer, Lockheed Martin, recently recognized Cindy's volunteerism with an award – and a $1,000 grant to the nonprofit of her choosing. Cindy chose Habitat for Humanity Greater Orlando & Osceola County – in honor of the 100 hours she volunteered with the nonprofit last year alone.
"I've done so much Habitat work that my wrist and thumb are perpetually sore," she joked.
Cindy has volunteered with Habitat Orlando & Osceola for several years now. At first, she'd simply attend Lockheed Martin's annual build days – but then she discovered Habitat's individual volunteer shifts.
Habitat for Humanity offers an opportunity to help people in a tangible way that Cindy enjoys. Her favorite build-site tasks include bolting the walls, painting, using the hammer drill and anything that requires a ladder.
"It's a worthwhile cause, Cindy said. "You're really helping people who need it. You're learning some skills.
"It's a way to give back to your community and show your devotion to God."
---
Our build sites may be closed to volunteers currently, but you can still bring hope home to our community by supporting affordable housing.