Editor's note: The volunteer photos included in this article were taken before COVID-19 closed Habitat Orlando & Osceola's build sites to the public. 
Bank of America is guided by a common purpose: to make their customers' financial lives better.
This goal provides a focus for all of Bank of America's actions, including its philanthropy. Bank of America's support focuses on meeting the needs of vulnerable populations and removing barriers to their economic mobility.
To help address those needs, Bank of America has partnered with a variety of nonprofits, including Habitat for Humanity.
"We know that when people have a home, it's often the precursor to finding jobs, a precursor to having stable health, and a precursor to having education for your family or yourself," said Jodie Hardman, senior vice president and market manager for Bank of America.
While Bank of America has a national and international philanthropic focus, that drive must align with local needs. Housing in Central Florida is a No. 1 issue, Hardman said.
Bank of America wants people to not only live in a safe place, but also get them self-sufficient. For three decades, Bank of America's senior leadership has believed that the Habitat model is extremely successful in helping individuals do achieve long-term stability and security.
"For us, it's been more than just we believe in Habitat," Hardman said. "It's that Habitat is a lot more than just their basic mission."
Bank of America invests in Habitat for Humanity, both financially and with time, locally, nationally and globally.
"Habitat for Humanity Greater Orlando & Osceola County has leveraged our investment and maximized their assets through our grant donations," Hardman said. "We've seen extraordinary impact."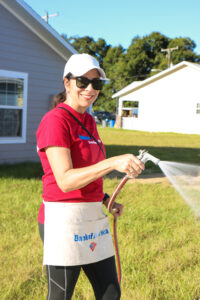 Bank of America volunteers log more than 40,000 hours a year at a number of Habitat affiliates. Those hours include working at build sites, joining Habitat Boards of Directors, teaching the financial literacy trainings that are part of Habitat's requirements for future homeowners, and more.
Working at a Habitat build site is a high-demand experience, Hardman said. It gives Bank of America employees the opportunity to be hands on – and meet some potential homeowners benefiting from their work.
"We help businesses and individuals, families really fulfill their dreams – but this is a different type of dream," Hardman said. "Just being able to say, 'I helped make someone's dream come true, and I participated in something necessary' is very powerful for our volunteers and our leaders."
For those interested in partnering with a nonprofit, Hardman suggested choosing a mission that connects with your passion and that's important to your community.
"Think about how you're giving back now and think about how you want to get back your investment," Hardman said.
Habitat Orlando & Osceola provides innovative ways to diminish the local housing crisis, from preserving homes owned by local people to building entire neighborhoods of safe, affordable homes. The out-of-the-box solutions extends to engaging ways for local people to help.
"There are a variety of ways that Habitat can use the individual, small business or large business to improve the area of affordable housing," Hardman said.
"Everyone in the room can make a difference."
---
You can help more local families experience the peace and freedom of owning an affordable home. When you donate to Habitat Orlando & Osceola, every dollar helps us build homes and work toward a world where everyone has a safe and affordable place to live. You can make bring hope home through homeownership; please give today.