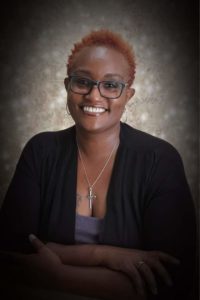 For years, Tonya allowed the belief that she couldn't become a homeowner, strengthened by negativity from other people, take over her life.
Coming home to her studio apartment one day, however, something urged her to visit Habitat for Humanity Greater Orlando & Osceola County's website. She was tired of putting money toward a lackluster rental.
Tonya knew there was a better option for affordable housing out there for her.
"I stepped out on faith and I'm glad that I did," Tonya said.
Tonya has now lived in her home at Habitat Orlando & Osceola's Butler's Preserve community for about 5 years. She took on the challenge of homeownership as a single woman and succeeded. At the time, Habitat Orlando & Osceola required 300 hours of sweat equity and 17 homeownership classes.
"Always know that God has a blessing with your name on it," Tonya said.
Becoming a self-sufficient, capable homeowner
She's been called on to speak on behalf of Habitat Orlando & Osceola and its homeownership program several times.
"I would do that year all over again," Tonya said. "It was an experience that I will cherish forever."
Tonya felt – and still feels – self-sufficient and capable to care for a home. She attributes this confidence in part to the classes and sweat equity. At the end of every hectic day, Tonya knew she would have a home of her own.
"To be able to pay a mortgage toward something that is mine is a wonderful feeling," Tonya said.
Her one regret? Not applying to become a Habitat Orlando & Osceola homeowner sooner.
Tonya has someplace to call home now – and a community to enjoy. She sits on her porch most mornings with a cup of coffee.
"I have to be humble enough to know that without God in my life, especially now, none of this would have ever happened," Tonya said.
---
We want to make sure all Osceola County and Greater Orlando residents have a safe, affordable place to call home. You can help us bring hope home to our community.