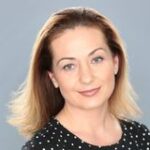 Habitat for Humanity Greater Orlando & Osceola County is pleased to announce the appointment of Vierka Kleinova as Vice President of Resource Development.
Kleinova will be responsible for leading and growing Habitat Orlando and Osceola's multi-million-dollar fundraising program. She will be a part of the executive leadership team that drives the overall strategy for the organization and represents Habitat Orlando and Osceola on a local, regional and national basis.
"Vierka is more than passionate development professional – she's a thoughtful leader with strong principles," said Catherine Steck McManus, president and CEO of Habitat Orlando & Osceola. "Coupled with her extensive experience in fundraising and membership service, Vierka will help drive our vision forward: A Central Florida community with access to quality, affordable housing."
Prior to joining Habitat Orlando & Osceola, Kleinova was the Director of Development for WMFE 90.7 FM (NPR). She worked at the radio station for 17 years in other roles as well, including Director of Membership.
---
You can help more local families experience the peace and freedom of owning an affordable home. When you donate to Habitat Orlando & Osceola, every dollar helps us build homes and work toward a world where everyone has a safe and affordable place to live. You can make bring hope home through homeownership; please give today.